Open MANIPULATOR-PRO

Back
| | | |
| --- | --- | --- |
| Product Name | : | RM-P60-RNH |
| Product Code | : | 905-0027-000 |
| Availability | : | Yes |
| | | |
Product description:
Robotclub Malaysia is Official Distributor of Open Manipulator in Malaysia
We have supplied, given training and support to a lot of universities, politeknik, institution, commercial sector.


Product Name : OpenMANIPULATOR-P
Model Name : RM-P60-RNH
Feature
User Programmable Open-Source Manipulator System
Modular Platform for Easy Maintenance and Customization
No External Control Box & High Weight-to-Payload Ratio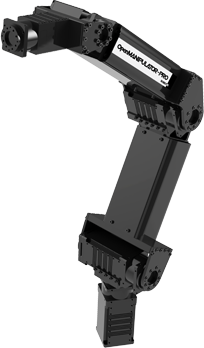 Package Component
| | |
| --- | --- |
| OpenMANIPULATOR-P | 1 (Fully-assembled) |
| Hard Case | 1 |
| U2D2 | 1 |
| Spare Cables (4P, 2P) | 1 |
| Screw Sets (WB M3x8 etc) | 1 |
| 4P Expansion Hub | 1 |
H/W Specification
DOF

6

Payload (kg)

3

Repeatability (mm)

±0.05

Speed (Each joint, deg/sec)

180

Weight (kg)

5.5

Reach (mm)

645

Rated Voltage (VDC)

24

Communication

RS-485 (Multi Drop Bus)

Motor Output / Joint

200W / 2ea

100W / 2ea

20W / 2ea

Software

ROS (Ubuntu Linux)

Controller

PC (Not Included)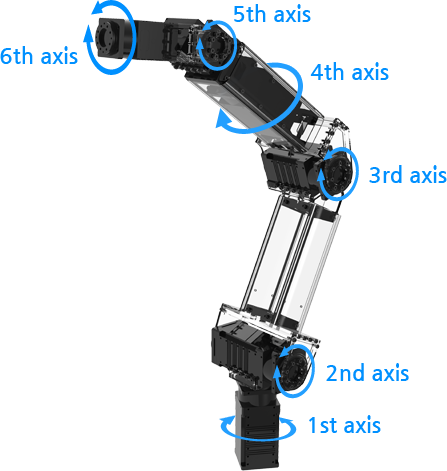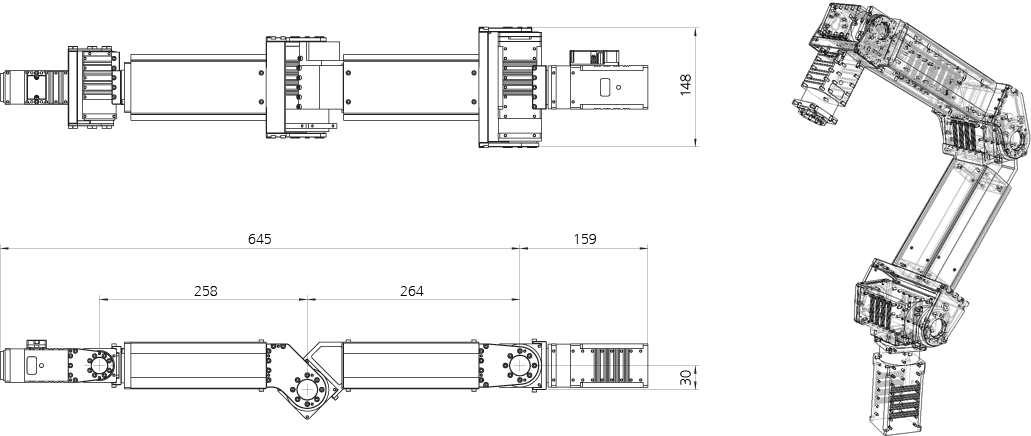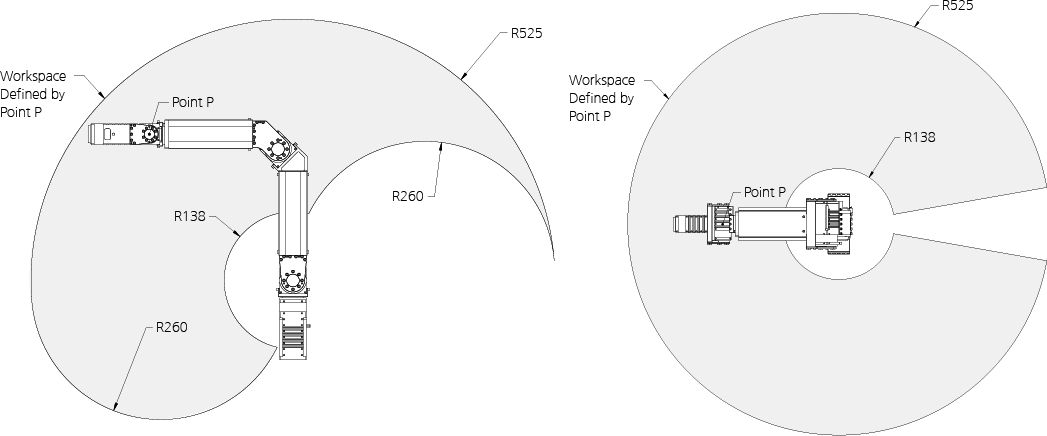 S/W Specification
ROBOTIS Manipulator controller package based on integrated software

OpenMANIPULATOR-P Library (Kinematics,Trajectory and Dynamixel Controller).

GUI program package for setting and monitoring control parameters.
MoveIt! package for OpenMANIPULATOR-P
Simulation package based on Gazebo Simulator
Teleoperation examples of keyboard and Joystick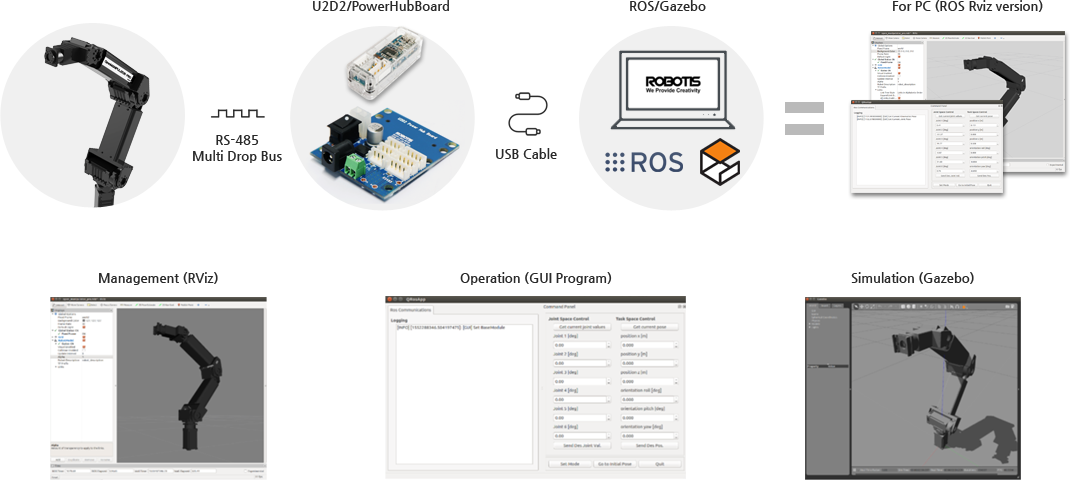 Purpose
Research and Education
Kinematics and Dynamics Experiment
Research and Design a Dual Arm Robot
Build a Mobile Robot System
Industrial Operation
Inspection Equipment
Small-Scale Delivery System
Caution
Power supply and PC are not included.
Please purchase separately according to your usage environment.

Factory Default Settings
(User can change various settings including ID and baud rate according to environment)

If you purchase RH-P12 (Robot Hand) and RM-P60-RNH(OpenMANIPULATOR P) together, they will be shipped out together in the OpenMANIPULATOR P`s case.
Features of DYNAMIXEL P

All-in-one Modular Design

DC Motor + Controller + Driver + Sensor + Cycloid Reduction Gear


Compact and Lightweight

Minimized module size with compact and lightweight cycloid reduction gear.

High weight-to-output ratio(0.05Nm/g)

High impact resistance ( over 400%)
High Precision and Low Backlash
Contactless (Magnetic) Absolute Encoder(by AMS) & Incremental Encoder for Precise Positioning

Low backlash (3~4arcmin)
Performance data provided tested by Korea Laboratory Accreditation Scheme(KOLAS)
Current-Based Torque Control

High speed current sensing algorithm and current feedback control
Triple-loop control for current, speed and position feedback.
User Friendly development environment

Provide C language based library

Various solution examples (C++, LabVIEW, C#, eclipse, JAVA, etc..)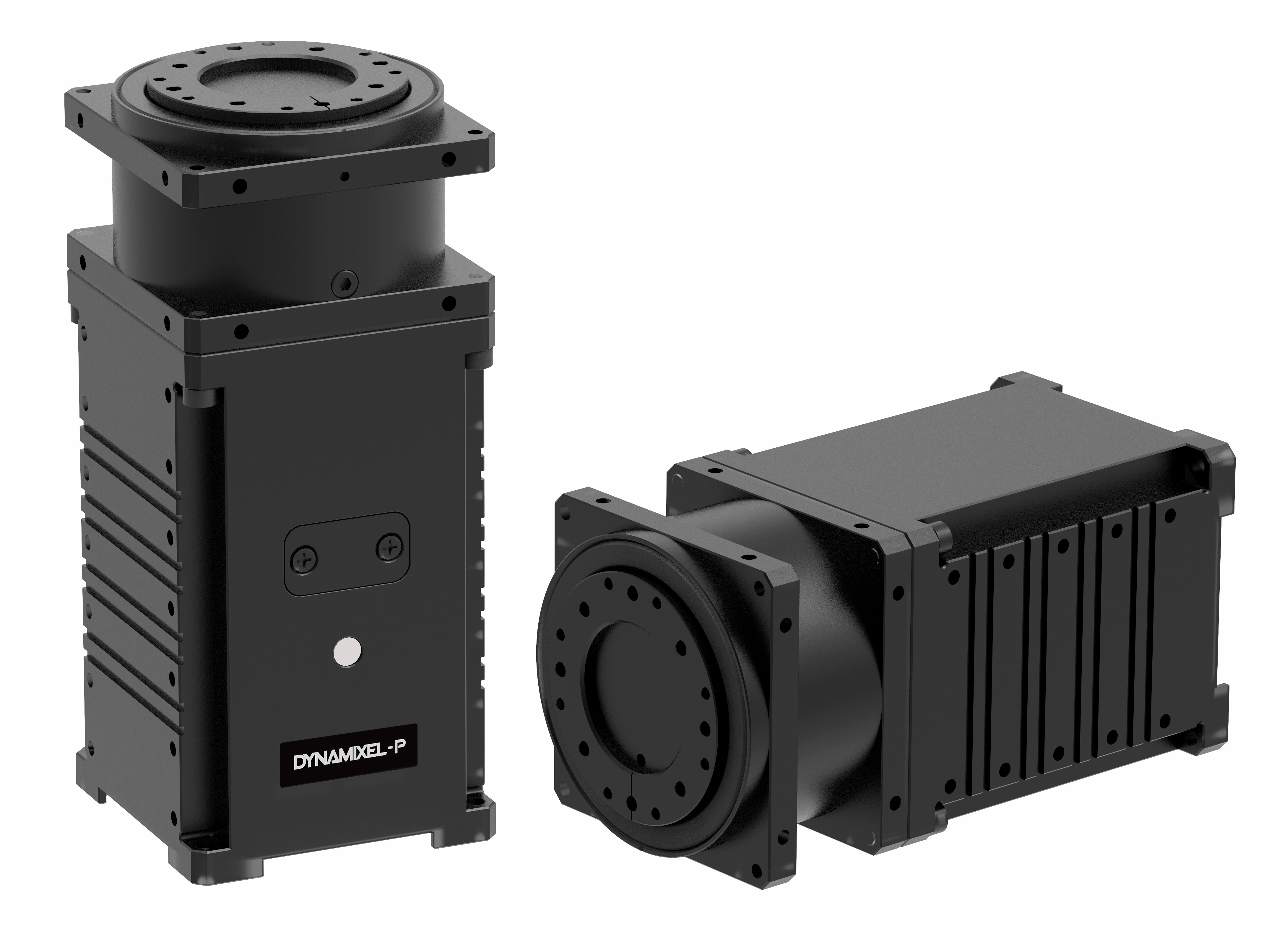 Links
· ○ e-Manual
· ○ Drawing
· ○ DYNAMIXEL SDK
905-0027-000
-RM-P60-RNH


Product Reviews: [Add Review]